2019 Testimonial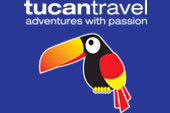 In 2019 Tucan Travel pledged to begin to develop robust internal systems and information. Known as our Purpose, this has been a driving force to develop United Nation Sustainable Development Goal (UN SDG) specific links and understanding in our policies and internal communication.
This process has enabled us to draw attention to and promote the passion that existed across the company for responsible travel. This has always underpinned our work but has never previously been brought to the fore.

We believe that it is only by seeing and engaging with different people, cultures and habitats that we can begin to have an understanding of the world around us. It is only through understanding that we can hope to learn how to protect and conserve the world for future generations of all species.



Strengthening our communication
Understanding our shared values
Providing staff support
Conducting a policy review
Critically reviewing our products
Celebrating a culture of learning
Find out more