Supporting Social Enterprise in Asia One Meal At A Time (2018)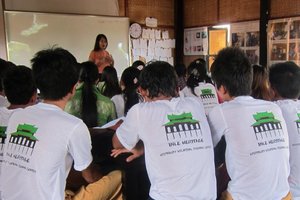 Experience Travel Group is proud to say that we have achieved our 2018 pledge. We pledged to send at least 200 clients to one of six social enterprise restaurants in Asia and at the end of the year, we reached that total (201). We estimate that this generated $4000 worth of revenue for the restaurants which will go directly back into vocational training for disadvantaged young people.

From the experience of our first year of this pledge (2017), we were confident of the positive local impact these restaurants have and of the way in which they enhance our clients' experience of their destination. This encouraged us to expand the pledge in 2018 to incorporate a restaurant in Luang Prabang (Laos), Kolkata (India) and Ubud (Bali) into our signature excursions there.

We were particularly delighted to exceed our target despite delays to the launch of our new Kolkata programme which meant that we have not yet been able to make any bookings at a restaurant there. However, the need for a social enterprise element is now firmly part of our planning of new programmes.

As well as working towards our target number of bookings, we also focused on communicating the benefits of visiting a social enterprise restaurant to a wider audience. We did this at a conference for our in-country partners; in our first ST-themed client e-newsletter and with an article in our new brochure. This raised the profile of sustainable travel in our organisation and amongst our 60,000-strong database. This year we also actively sought feedback from clients who visited the restaurants, all of which was extremely positive: "It's really nice to know that while you're having a lovely meal you're also (making) a big difference to other people's lives," and "we loved everything about it and bought their cookbook!"

Next steps include identifying a social enterprise initiative to incorporate into our Sri Lanka and India programmes and collaborating with one of the restaurants to create recipe cards for clients that will highlight how simply eating a tasty meal can contribute to an important sustainability project with powerful social impact.