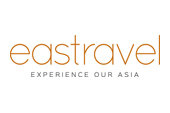 Laos - Tailor made holidays by Eastravel
Traditionally known as the Kingdom of a Million Elephants, Laos is blessed with verdant countryside, glittering Buddhist temples, languid village life and gentle people. Years of isolation from the wider world have helped preserve Laos' peaceful nature and allow a glimpse into a quieter time.

Vientiane's unhurried air reflects its status as South-east Asia's smallest capital. Old French colonial villas mix with tranquil Buddhist temples in this quaint diminutive city nestled on the banks of the Mekong.

Historic home of the Laotian Kings, and formerly Laos' religious capital, Luang Prabang nestles in a deep river valley ringed by dramatic green mountains. Luang Prabang is listed
Traditionally known as the Kingdom of a Million Elephants, Laos is blessed with verdant countryside, glittering Buddhist temples, languid village life and gentle people. Years of isolation from the wider world have helped preserve Laos' peaceful nature and allow a glimpse into a quieter time.

Vientiane's unhurried air reflects its status as South-east Asia's smallest capital. Old French colonial villas mix with tranquil Buddhist temples in this quaint diminutive city nestled on the banks of the Mekong.

Historic home of the Laotian Kings, and formerly Laos' religious capital, Luang Prabang nestles in a deep river valley ringed by dramatic green mountains. Luang Prabang is listed as an UNESCO World Heritage Site for its uniquely preserved architecture and townscape; traditional wooden buildings and European colonial mansions form a backdrop to the daily ritual of saffron-robed monks gathering alms.

One of the last mysteries of Asia lies in the area around Phonsavanh. Over 300 giant stone jars, carved out of solid rock, lie scattered around a plateau now known as the Plain of Jars. There are as many theories about their origin as there are jars, but as yet the mystery has not been solved.

Scenic limestone karsts and numerous caves can be explored at Vang Vieng, a small village sitting alongside the Nam Song River. At Oudomxai, traditional thatched houses spread across the edge of the valley towards the base of the magnificent mountains.

Small trading towns, traditional Khmer architecture and faded French colonial buildings are part of Laos' charm. Its tiered waterfalls, tropical forests, dramatic mountains and lush natural beauty are enchanting. This often-overlooked part of South-east Asia is generally agreed to be the highlight of South-east Asia by those travellers who make it here.