Train Touring Holidays by McKinlay Kidd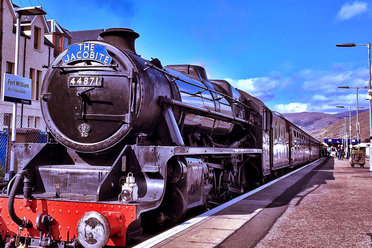 If your idea of a care-free holiday is car free, you'll be spoilt for choice with our great selection of scenic train journeys and longer self-guided tours throughout Scotland, Ireland and northern England. We've tracked down spectacular trips where you can relax and travel in comfort through stunning landscapes often inaccessible by road, such as the wilds of Rannoch Moor or Scottish Flow Country. If you'd rather reach for the camera than the gear stick, consider taking the West Highland Line over the magnificent Glenfinnan Viaduct or the Settle to Carlisle Railway with beautiful views of the Pennine Hills and the Lake District Fells. Our train trips can even lead you beyond the end of
If your idea of a care-free holiday is car free, you'll be spoilt for choice with our great selection of scenic train journeys and longer self-guided tours throughout Scotland, Ireland and northern England. We've tracked down spectacular trips where you can relax and travel in comfort through stunning landscapes often inaccessible by road, such as the wilds of Rannoch Moor or Scottish Flow Country. If you'd rather reach for the camera than the gear stick, consider taking the West Highland Line over the magnificent Glenfinnan Viaduct or the Settle to Carlisle Railway with beautiful views of the Pennine Hills and the Lake District Fells. Our train trips can even lead you beyond the end of the line to islands such as spectacular Skye, fascinating Orkney or the captivating Irish Aran Islands. What's more, you'll have plenty of opportunity to meet and chat with locals and other travellers on such a journey if you wish.

Wherever you choose to go, let us organise the smartest connections, the local guides and the special places to stay; it's what we do best.

We've visited and sampled every restaurant, bar and café we recommend. It's a tough job but someone's got to do it.