Hadrian's Wall by Mickledore Travel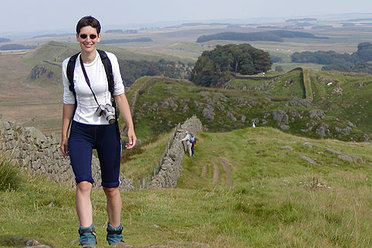 The route follows the line of Hadrian's Wall which was built on the instructions of Roman emperor Hadrianus between AD120 and AD128 to mark and protect the northern limit of his Roman Empire.
It crosses the country from Wallsend, near Newcastle, through the rolling countryside of Northumberland, continuing all the way through the historic city of Carlisle to the flat plains of the Solway Coast.
At every mile along the Wall there is a milecastle with two watchtowers in between. Although parts of the wall have been plundered for local houses, the central section is very well preserved, as are many of the various forts and milecastles on the way. The route can be walked in either direction
The route follows the line of Hadrian's Wall which was built on the instructions of Roman emperor Hadrianus between AD120 and AD128 to mark and protect the northern limit of his Roman Empire.
It crosses the country from Wallsend, near Newcastle, through the rolling countryside of Northumberland, continuing all the way through the historic city of Carlisle to the flat plains of the Solway Coast.
At every mile along the Wall there is a milecastle with two watchtowers in between. Although parts of the wall have been plundered for local houses, the central section is very well preserved, as are many of the various forts and milecastles on the way. The route can be walked in either direction. It is easy to follow with some breathtaking and dramatic views.