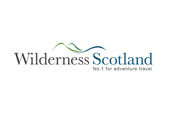 Wilderness Walking by Wilderness Scotland
You will enjoy daily walks, led by our expert guide, carrying only what you need for the day. While some of our itineraries are based in one location others visit various regions of the Highlands. A combination of hill walks, coastal walks and glen/valley walks are available across the itineraries.

The best in the business – our guiding team is committed to providing you with the best possible holiday experience of Scotland and a trip to remember. Our guides are fountains of local and natural knowledge, so be sure to ask lots of questions! They will bring Scotland's dramatic history and diverse culture to life and will also point out interesting flora and fauna along the way.

Our
You will enjoy daily walks, led by our expert guide, carrying only what you need for the day. While some of our itineraries are based in one location others visit various regions of the Highlands. A combination of hill walks, coastal walks and glen/valley walks are available across the itineraries.

The best in the business – our guiding team is committed to providing you with the best possible holiday experience of Scotland and a trip to remember. Our guides are fountains of local and natural knowledge, so be sure to ask lots of questions! They will bring Scotland's dramatic history and diverse culture to life and will also point out interesting flora and fauna along the way.

Our Wilderness Walking holidays in Scotland are based from small hotels, guest houses or Highland Lodges. These are generally 3-4 star in standard, offering a high level of comfort and service.

We can also run private walking trips - contact us to discuss your ideas and let us design the perfect hiking itinerary for you, regardless of what level of hiker you are.