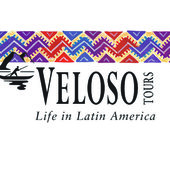 The Caribbean with Veloso Tours by Veloso Tours
An escapade to a Caribbean Island is the perfect way to unwind at the beginning or end, of your tour in Latin America, or simply as a break from a busy lifestyle.

Relax in a hammock, swim in the turquoise sea or snorkel over the beautiful coral reefs in some of the world's most beautiful and idyllic beaches and islands of the West Indies. Enjoy fabulous resorts of all styles and standards, in which to unwind in luxurious surroundings and sample some outstanding local cuisine.

The flights direct or with connections, enable you to reach a special remote location: Jamaica, the Bahamas, US Virgin Islands, British Virgin Islands, Turks & Caicos, Anguilla or Saint Martin; all with amazing
An escapade to a Caribbean Island is the perfect way to unwind at the beginning or end, of your tour in Latin America, or simply as a break from a busy lifestyle.

Relax in a hammock, swim in the turquoise sea or snorkel over the beautiful coral reefs in some of the world's most beautiful and idyllic beaches and islands of the West Indies. Enjoy fabulous resorts of all styles and standards, in which to unwind in luxurious surroundings and sample some outstanding local cuisine.

The flights direct or with connections, enable you to reach a special remote location: Jamaica, the Bahamas, US Virgin Islands, British Virgin Islands, Turks & Caicos, Anguilla or Saint Martin; all with amazing hotel and resorts, from the character of Jamaica Inn and barefoot paradise simplicity of Fernandez Bay Village to the shear luxury of Rosewood Little Bix Bay, Amanyara, and Belmond La Samanna and Cap Juluca. Our local guides will show you their island, uncovering stories of pirates, colonial history and the culture of the indigenous peoples as well as nature in all its glory..