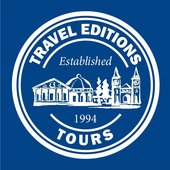 Christmas Tours by Travel Editions
These lovely cultural tours for the festive
season are perfectly suited to anyone looking to
make Christmas extra special. If you're after
weather that is more cheerful than we're used to,
or somewhere where you can relax around a
crackling fire and glimpse snow-topped
mountains through the window, there are plenty of
options to choose from, with old favourites
augmented by a new tour to the lovely Black
Forest region of Germany and a revamped tour of
Alsace, now based in the heart of lovely
Strasbourg.
Welcome
Christmas on the Continent 2017
Tours travel out of London St Pancras or Ebbsfleet
International by Eurostar to Paris, Lille or Brussels
and onward (as required)
These lovely cultural tours for the festive
season are perfectly suited to anyone looking to
make Christmas extra special. If you're after
weather that is more cheerful than we're used to,
or somewhere where you can relax around a
crackling fire and glimpse snow-topped
mountains through the window, there are plenty of
options to choose from, with old favourites
augmented by a new tour to the lovely Black
Forest region of Germany and a revamped tour of
Alsace, now based in the heart of lovely
Strasbourg.
Welcome
Christmas on the Continent 2017
Tours travel out of London St Pancras or Ebbsfleet
International by Eurostar to Paris, Lille or Brussels
and onward (as required) by TGV or continental
railways to your destination. Two tours for 2017
are also using Eurostar's excellent direct train
service to Lyon and Avignon.
Holidays are packed full of cultural and historic
treasures, but also include free time for you to
relax, enjoy your locale and feel festive. Not
forgetting one of those favourite Christmas
pastimes – eating! Special meals are included on
Christmas Eve and Christmas Day, either at a
hand-picked local restaurant, or your hotel. Some
tours in city centre locations are on bed and
breakfast basis giving you the chance to explore
the local restaurants nearby, others in more remote
locations are on half board basis throughout.
All are escorted by one of our excellent tour
managers to enhance your visits and to ensure the
smooth running of the tour.