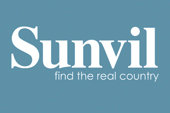 real Greece by Sunvil
Greece and the islands


In our 50th year of arranging holidays to Greece, we continue to concentrate on those areas that best represent the country's changeless beauty, unspoiled nature and simple life-style.


Consequently we are not interested in places that are dominated by other tourists, where being in Greece is secondary to being anywhere in the sun. Rather, over the decades, we have carefully gathered a selection of different accommodations that are able to meet the needs of independent-minded holidaymakers who are keen to experience "the real Greece".


Independence requires choice and flexibility, and thanks to our in-depth knowledge of Greece and the expertise of our
Greece and the islands


In our 50th year of arranging holidays to Greece, we continue to concentrate on those areas that best represent the country's changeless beauty, unspoiled nature and simple life-style.


Consequently we are not interested in places that are dominated by other tourists, where being in Greece is secondary to being anywhere in the sun. Rather, over the decades, we have carefully gathered a selection of different accommodations that are able to meet the needs of independent-minded holidaymakers who are keen to experience "the real Greece".


Independence requires choice and flexibility, and thanks to our in-depth knowledge of Greece and the expertise of our specialist team we are able to offer both. We encourage diverse arrangements: multi-centre holidays, extended stays and tailor-made vacations. We offer self-catering villas and small hotels, village apartments, studios, and boutique luxury, in whatever combination required. The common thread is always a direct connection with an authentic local environment.


Quality of service is key to what we provide, from first to last: from the knowledge we can share in an initial enquiry to the assistance on offer from our experienced team of overseas representatives.


Our aim is to make every holiday feel as if it's "tailor-made".