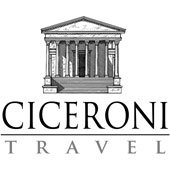 Castile & Leon
Castile & Leon Overview
Spanish Adventure: Castile & The Formation of Spain from CICERONI Travel. Discover Castile - the heart of medieval and modern Spain, Wonderful range of visits to castles, palaces and churches, We stay in Salamanca, Leon, Lerma and just outside Segovia in excellent 4* & 5* hotels & Paradors. Excellent food and wine, including several wine tastings.
Spanish adventure: Castile & the Formation of Spain
Tour Lecturer; Tom Duncan, co-Founder of CICERONI Travel
We sometimes forget how recently Spain has emerged as a nation. Richard Ford's phrase "Spain is a bundle of local units, tied together by sand" is a poetic summary of a land still unhappily divided by its very formation. The marriage of Isabel of Castile and Ferdinand of Aragon in 1469 united the two largest kingdoms in Spain. Los Reyes Católicos (the Catholic Monarchs) proved adept in their role, completing the re-conquest of the Moorish territories, launching Columbus on his discovery of the New World and linking their family to the Imperial House of Habsburg through marriage. To their grandson, the Emperor Charles V and his son, Phillip II of Spain, they bequeathed the bones of what became the modern Spanish nation.
Bones need flesh and the process of building Spain into a viable nation was difficult. Each of the former medieval kingdoms had its own traditions and none wished to see these disturbed. Tensions between the strong regional parts and the newly established Madrid-based monarchy shaped the nation, a dynamic that still lives on today.
Castile emerged as the most powerful kingdom of the Iberian Peninsula in late medieval times. It was an agriculturally rich area and traded its wool with Flanders to its huge financial advantage. Its long tradition of military activity in defence of Catholicism had a double edge: it enshrined intolerance and bigotry towards the Moors and Jews, while creating a remarkably varied range of fortified cities, spectacular castles and richly endowed churches of every sort. It is this rich artistic patrimony which gives Castile its particular "ambience".
Salamanca is one of the most atmospheric cites in the country, full of wonderful buildings and a permanent air of festivity. Nearby, Avila has the most astonishing medieval walls in Spain and within those walls some remarkable churches. Leon is more stately and an ideal base from which to explore the lovely countryside. Burgos has the most beautiful medieval churches of all Spain, while not far away Lerma reflects how the vision of a single man can shape a renaissance town. Segovia has the great Roman aqueduct and nearby is the great royal hunting palace of La Granja de San Ildefonso, beside which we shall stay as our journey comes full circle.
Good food and wine are produced in abundance in Castile and we shall take advantage of nature's bounty. Meals are a very important part of the day and so we have chosen where we shall eat carefully, using the finest local ingredients to reflect both traditional and contemporary dining.
We have also chosen some of the most atmospheric hotels available for this visit, all of which occupy historic buildings in city centre locations. In Salamanca we use the 5* Hotel Palacio de San Esteban ; in Leon the 5* Hostal de San Marcos which is the most beautiful Parador in Spain; in Lerma and La Granja , we use their 4* Paradors , both of which are housed in handsome and cleverly adapted buildings of historic importance.
Please note, this tour has now departed, we next expect to offer this tour in 2022. For the latest information about our current and future tours please visit www.ciceroni.co.uk or call 01869 811167
Find out more about CICERONI Travel