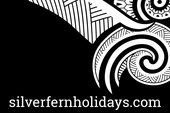 Small Group Tours of New Zealand by Silver Fern Holidays
All our experience - 30 years – has gone into creating Silver Fern Holidays' escorted tours of New Zealand.
We offer six Small Group Tours of New Zealand, from a 10-day exploration of North Island to a complete 21-day journey around the 'land of the long white cloud'.
All our itineraries include time for you to enjoy New Zealand in your own way, whether that's tasting a pinot noir in Hawke's Bay or taking a helicopter from Franz Josef to land on a glacier!
Our comfortable vehicles are also agile enough to use roads less-travelled and we take every opportunity to get you off the coach and 'up close and personal' with this amazing country.
Our hand-picked Leaders are not only safe
All our experience - 30 years – has gone into creating Silver Fern Holidays' escorted tours of New Zealand.
We offer six Small Group Tours of New Zealand, from a 10-day exploration of North Island to a complete 21-day journey around the 'land of the long white cloud'.
All our itineraries include time for you to enjoy New Zealand in your own way, whether that's tasting a pinot noir in Hawke's Bay or taking a helicopter from Franz Josef to land on a glacier!
Our comfortable vehicles are also agile enough to use roads less-travelled and we take every opportunity to get you off the coach and 'up close and personal' with this amazing country.
Our hand-picked Leaders are not only safe drivers, but keen to share their knowledge and enthusiasm.
We also meet up with Expert Guides along the way, so that you can experience, for example, a Maori welcome in Rotorua or a guided nature walk at Milford Sound.
And on our escorted tours of New Zealand for small groups, we have a wider choice of places to stay, including boutique B&Bs and rural home-stays.
It is the smaller-scale experiences and face to face encounters that make our Small Group Tours of New Zealand unique.