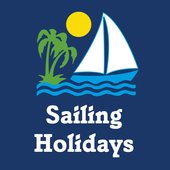 Shore to Sail Holidays by Sailing Holidays
SHORE TO SAIL

A week or two of sailing with a week or two ashore...

These holidays will appeal to those who enjoy sailing but have family or friends who are not quite so enthusiastic - a compromise can now be made!

Most people opt for a week of sailing followed by a week of winding down on shore. However it is entirely up to you to do what you want to do (and when!)

RELAX, UNWIND & RECHARGE WITH A LUXURY WEEK ASHORE

Choose from studios or apartments beside the sea at the Iris Hotel, Stena, near Nidri, or opt for the Salvator Villas and Spa Hotel in Parga, which has a selection of two-bedroom villas with private pools.

YOUR SHORE-BASED WEEK

During your week ashore
SHORE TO SAIL

A week or two of sailing with a week or two ashore...

These holidays will appeal to those who enjoy sailing but have family or friends who are not quite so enthusiastic - a compromise can now be made!

Most people opt for a week of sailing followed by a week of winding down on shore. However it is entirely up to you to do what you want to do (and when!)

RELAX, UNWIND & RECHARGE WITH A LUXURY WEEK ASHORE

Choose from studios or apartments beside the sea at the Iris Hotel, Stena, near Nidri, or opt for the Salvator Villas and Spa Hotel in Parga, which has a selection of two-bedroom villas with private pools.

YOUR SHORE-BASED WEEK

During your week ashore there are plenty to keep you entertained, depending on which location you choose. If you are looking to get back out on the water you can rent motor boats, take a dive course, or even take one of our yachts out for a day sail. Hiring a car is popular and gives you the opportunity to explore all around Lefkas and the Greek Mainland.

If it is relaxation you are after, you will be pleased to know that all of our accommodation options have a swimming pool. The Salvator Villas and Spa Hotel also has an in-house spa – a truly luxurious way to unwind!

YOUR SAILING WEEK

Your sailing week will start with a comprehensive briefing on all aspects of your yacht, followed by a short first day sail. This will be about 10 miles in relatively sheltered waters. Most days thereafter will be a similar distance of no more than 15 miles.