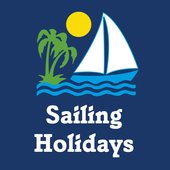 Shore to Sail Holidays by Sailing Holidays
SHORE TO SAIL

A week or two of sailing with a week or two ashore...

These holidays will appeal to those who enjoy sailing but have family or friends who are not quite so enthusiastic - a compromise can now be made!

Most people opt for a week of sailing followed by a week of winding down on shore. However it is entirely up to you to do what you want to do (and when!)

RELAX, UNWIND & RECHARGE WITH A LUXURY WEEK ASHORE

We are thrilled to be able to offer some new boutique hotel accommodation options for our 2013 Shore to Sail programme!

Choose from studios or apartments beside the sea at the Iris Hotel, Stena, near Nidri, or opt for one of our carefully selected boutique hotels
SHORE TO SAIL

A week or two of sailing with a week or two ashore...

These holidays will appeal to those who enjoy sailing but have family or friends who are not quite so enthusiastic - a compromise can now be made!

Most people opt for a week of sailing followed by a week of winding down on shore. However it is entirely up to you to do what you want to do (and when!)

RELAX, UNWIND & RECHARGE WITH A LUXURY WEEK ASHORE

We are thrilled to be able to offer some new boutique hotel accommodation options for our 2013 Shore to Sail programme!

Choose from studios or apartments beside the sea at the Iris Hotel, Stena, near Nidri, or opt for one of our carefully selected boutique hotels. The San Nicolas Resort Hotel is now available in nearby Roudha Bay, or really pamper yourself at the Salvator Villas and Spa Hotel in Parga, which also has a selection of two-bedroom villas with private pools.

YOUR SHORE-BASED WEEK

During your week ashore there are plenty to keep you entertained, depending on which location you choose. If you are looking to get back out on the water you can rent motor boats, take a dive course, or even take one of our yachts out for a day sail. Hiring a car is popular and gives you the opportunity to explore all around Lefkas and the Greek Mainland.

If it is relaxation you are after, you will be pleased to know that all of our accommodation options have a swimming pool. The Salvator Villas and Spa Hotel also has an in-house spa – a truly luxurious way to unwind!

YOUR SAILING WEEK

Your sailing week will start with a comprehensive briefing on all aspects of your yacht, followed by a short first day sail. This will be about 10 miles in relatively sheltered waters. Most days thereafter will be a similar distance of no more than 15 miles.

PRE-FLOTILLA SAIL TRAINING

One of the brand new options we are really excited to offer is a week onshore, with a day or two of pre flotilla sail training, followed by a week on flotilla.

Whether you are a complete beginner or simply feeling a little rusty this is a great option for those wishing to acquire their sea legs before embarking on a flotilla in the second week of the holiday.

This option is carried out from our pontoon beside the Iris Hotel at Stena, just south of Nidri. It could be undertaken by guests staying at either the Iris Hotel or the San Nicolas Resort Hotel

WHAT WILL WE LEARN?

Our style of informal training is unrivalled, offering you the chance to learn all the basics of being on board a boat, in the stunning setting of the Greek Islands.

Things that you will experience:
• How to start the engine
• How to leave the pontoon
• Getting the sails out (and a bit about how to use them)
• Dropping the anchor
• Simple navigation
• Mooring the boat

Ours is a very informal brand of training, so if there is anything that you feel is being missed or anything you have questions about please do not hesitate to ask one of our crew.

To ensure there is space on the training boat this should be booked at the same time as the holiday. Other friends and family members may join the training boat for the day.