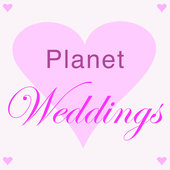 Weddings in Greece by Planet Holidays and Planet Weddings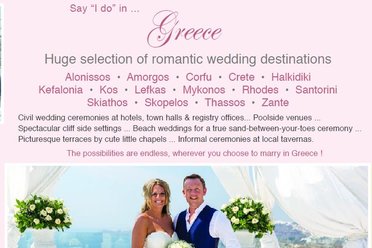 Greece Weddings with Planet Weddings
Weddings in Crete
Weddings at Hotels, Registry Office, beach weddings & other venues in Crete
Ranking as the largest and southernmost of the Greek islands, Crete boasts two airports. Splendid scenery, a diversity of landscapes, popular beaches and hidden coves, plus historical interest make Crete stand out as a major destination on the tourist map.
If you are thinking about getting married in Crete, the range of wedding venues includes a variety of luxurious hotels, registry offices, outside a white washed chapel, a very picturesque setting by the lake in Aghios Nikolaos, vineyards plus local tavernas.

Weddings in Santorini
Weddings at a whole
Greece Weddings with Planet Weddings
Weddings in Crete
Weddings at Hotels, Registry Office, beach weddings & other venues in Crete
Ranking as the largest and southernmost of the Greek islands, Crete boasts two airports. Splendid scenery, a diversity of landscapes, popular beaches and hidden coves, plus historical interest make Crete stand out as a major destination on the tourist map.
If you are thinking about getting married in Crete, the range of wedding venues includes a variety of luxurious hotels, registry offices, outside a white washed chapel, a very picturesque setting by the lake in Aghios Nikolaos, vineyards plus local tavernas.

Weddings in Santorini
Weddings at a whole range of picturesque venues on Greece's most photographed island!
Magnificent scenery combined with an unusual choice of venues have made Santorini a favourite wedding and honeymoon destination. The range of hotels and restaurant venues we feature on this truly beautiful island is very tempting. We're also able to suggest some terrific local venues for your wedding reception, be it for just the two of you or in the company of relatives and friends.

Weddings in Rhodes
Weddings at Hotels, Registry Office, beach weddings & other venues on an island that boasts the most days of sunshine and fresh orange crops, twice annually!
Rhodes offers a huge range of attractions including magnificent sightseeing opportunities and a stunning choice of excellent hotels that fringe the coastline.
Our selection of wedding venues in Rhodes combines variety to suit all preferences and budgets to ensure your special day will be one to remember for ever.

Weddings in Skiathos
Weddings at Hotels, Registry Office, beach weddings & other venues on this beautiful island.
Skiathos was already the best known of the Sporades islands but since the release of Mamma Mia, the hugely acclaimed box office smash in 2008 & 2018, it has become THE Greek destination for weddings and honeymoons. Green and fertile, it has a coastline fringed by inviting beaches and Skiathos Town is a very pretty island's capital with a picturesque harbour.
Wedding venues include luxurious hotels, the local town hall plus the chance to exchange those very important vows right on the beach!

Weddings in Skopelos
Bathing in the western Aegean Sea, Skopelos is part of the Sporades Islands group and is reached by boat from Skiathos. Skopelos's main port sits in a beautiful bay on the northern coast and the island's second largest settlement is Glossa on the northwest tip, about 35km from the main town.
Amongst the 360 churches and chapels on this stunning island, one was made instantly 'world-famous' with the release of Mamma Mia in 2008. Indeed, who can forget the glorious wedding procession up the rocky peninsula/island to reach the tiny chapel of Aghios Ioannis? Read on for your chance to retrace the steps of acclaimed film stars and start planning your script for your oscar-winning wedding in Skopelos.

Weddings in Alonissos
A third Sporades gem for weddings and honeymoons, this island is new to the Planet Weddings programme. From the delightful old town with its narrow streets and medieval castle to the National Marine Park, this island is lesser-known for weddings and honeymoons but nonetheless as special.

Weddings in Zante
The very pretty island of Zante offers an exciting choice of wedding venues including garden settings, hotels' pool-sides, panoramic cliff-tops, beachside location, and even a tiny island off Zante's coast - whichever your preference, your big day will definitely be very special.

Weddings in Kefalonia
Renown for its beautiful beaches and indented coastline, Kefalonia is only 50km long by 25km wide. The island suits anyone seeking stunning scenery and a relaxed atmosphere or that romantic moment in Captain Corelli's Mandolin!

Weddings in Kos
Blessed by miles of sandy beaches, Kos (one of the Dodecanese Islands) is a splendid choice for your wedding day and honeymoon. A great variety of options including Kastri Island (well, actually, it's more a tiny 'islet' than an 'island). This islet sits off the southern coast of Kos, opposite the resort of Kefalos. Rocky and rugged, it nevertheless boasts the ruin of an ancient stone castle on a small hill plus a picturesque little chapel made even prettier with its blue roof and blue door. How 'more Greek' do you want your wedding in Greece to be?

Weddings in Amorgos
We could not resist adding the gorgeous Greek island of Amorgos to our wedding programme. A picturesque and laid-back ceremony can be arranged at a variety of locations and includes the chance to enjoy a 'sand-between-your-toes' ceremony on the beach. Couples can also opt to tie the knot by a picturesque chapel in a lovely mountain setting or in a sea view garden location . Special touches such as local musicians plus the opportunity for the bride to make her arrival by donkey can easily be arranged too!

Weddings in Lefkas
Part of the Ionian group of islands and linked to the mainland by a floating bridge, Lefkas is a delightful island blessed by a stunning coastline. Nestled between Paxos and Kefalonia, Lefkas has retained its picturesque charm whilst embracing the need for modern amenities. Gorgeous villages clinging to hills, long sweeping beaches and rocky coves all feature on Lefkas and visitors exploring the east coast can even get a good glimpse at the island of Skorpios, formerly owned by Aristotle Onassis. Weddings options here include the lovely setting of Nidri Beach, to terraces right by the waterfront.

Weddings in Thassos
Standing on a golden sandy beach, Planet Weddings feature a magical wedding venue is located on the northernmost Greek island of Thassos. Combining a top class setting, excellent service and accommodation plus lots of lovely touches in the wedding package, this is a special location for the wedding and honeymoon.

Weddings in Halkidiki
Here's a superb choice of top quality hotels, all boasting stunning locations, high standards and professional 'know-how' to make your wedding day as special as you wish it to be. There are also options to enjoy pampering spa treatments and treat yourself and your spouse to a romantic 'wedding cruise'.