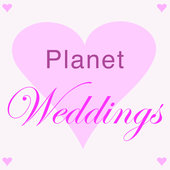 Weddings in Cyprus by Planet Holidays and Planet Weddings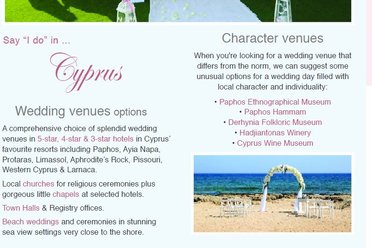 TYPES OF CEREMONIES AVAILABLE IN CYPRUS include:

Civil Weddings • Religious Weddings & Religious Blessings • Same-Sex Blessings • Renewal of Vows

Weddings at Hotels
Planet Weddings' programme is filled with a huge choice of
a stunning variety of resorts and hotels where couples can choose to get married. The wedding venues have been specially selected to offer the very best that's available on the island of Cyprus.

Beach Weddings
The selection of truly romantic beach settings in Cyprus for that perfect sand-between-your-toes ceremony, is possibly the most inviting.

Character Wedding Venues
A picturesque museum... a family-run village taverna... a monastery... a golf
TYPES OF CEREMONIES AVAILABLE IN CYPRUS include:

Civil Weddings • Religious Weddings & Religious Blessings • Same-Sex Blessings • Renewal of Vows

Weddings at Hotels
Planet Weddings' programme is filled with a huge choice of
a stunning variety of resorts and hotels where couples can choose to get married. The wedding venues have been specially selected to offer the very best that's available on the island of Cyprus.

Beach Weddings
The selection of truly romantic beach settings in Cyprus for that perfect sand-between-your-toes ceremony, is possibly the most inviting.

Character Wedding Venues
A picturesque museum... a family-run village taverna... a monastery... a golf resort...a charming garden setting...
detailed and stunning selection of character wedding venues are on offer by Planet Weddings.

Weddings at Town Halls
Cyprus has a great choice of Town Halls located in (or close to) Cyprus' popular holiday resorts. When choosing a civil wedding at a Town Hall, the short ceremony is similar to what we are used to in the UK.

Weddings in Local Churches
There are some lovely churches in Cyprus where couples can choose to have a religious wedding ceremony with all the trimmings.

Yacht Weddings
Chartering a yacht or a catamaran for a wedding venue will definitely impress the guests!