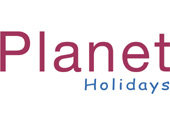 Planet Holidays Corfu, Greece by Planet Holidays and Planet Weddings
Corfu is the greenest and probably the best known of all the Greek islands and, at just 60km by 32km, it is easy to explore its scenic countryside, long sandy beaches and rocky coves in the space of a two week holiday!

Corfu Town is a gem not to be missed with its array of shops, tavernas and bars as well as several beautiful churches. For sports enthusiasts, our range of hotels offers a varied choice of watersports and the island even boasts a championship golf course if you fancy a round or two during your stay.

And Corfu is also the perfect destination for those longing to do nothing more than relax under the sun in lovely surroundings.

Check out the selection of 5 star properties
Corfu is the greenest and probably the best known of all the Greek islands and, at just 60km by 32km, it is easy to explore its scenic countryside, long sandy beaches and rocky coves in the space of a two week holiday!

Corfu Town is a gem not to be missed with its array of shops, tavernas and bars as well as several beautiful churches. For sports enthusiasts, our range of hotels offers a varied choice of watersports and the island even boasts a championship golf course if you fancy a round or two during your stay.

And Corfu is also the perfect destination for those longing to do nothing more than relax under the sun in lovely surroundings.

Check out the selection of 5 star properties staruing with the Olivar Suites in Messonghi, alongside the Kontokali Resort & Spa in Kontokali, or the popular Marbella Corfu Hotel in Agios Ioannis, and the Grecotel Costa Botanica in Archaravi.

There's lots more in the main brochure programme of Planet Holidays too, with options to stay in nearby Paxos.