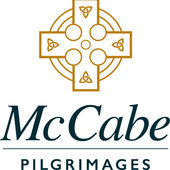 Pilgrimage to Iona by McCabe Pilgrimages
We make our own way to Glasgow, where our holiday begins with an introductory walk, dinner and overnight stay in a central hotel. Next morning, we drive along iconic Loch Lomond to enter the Highlands en route to the Hebrides. We sail from Oban to the island of Mull for a three night stay at the 4-star Isle of Mull Hotel, with pool and spa facilities, in a wonderful coastal location.

Day two will be spent exploring Iona including our own service in the Abbey. On the third day we will visit colourful Tobermory and have the option (weather permitting) of sailing to Fingal's Cave on the island of Staffa. On the final day we leave Mull in the morning, arriving back in Glasgow mid-afternoon
We make our own way to Glasgow, where our holiday begins with an introductory walk, dinner and overnight stay in a central hotel. Next morning, we drive along iconic Loch Lomond to enter the Highlands en route to the Hebrides. We sail from Oban to the island of Mull for a three night stay at the 4-star Isle of Mull Hotel, with pool and spa facilities, in a wonderful coastal location.

Day two will be spent exploring Iona including our own service in the Abbey. On the third day we will visit colourful Tobermory and have the option (weather permitting) of sailing to Fingal's Cave on the island of Staffa. On the final day we leave Mull in the morning, arriving back in Glasgow mid-afternoon in time for train connections home.
We have designed our short break holidays to be inexpensive, packed with interest and pilgrimage based. This is an opportunity to meet up with pilgrims from previous experiences.