Pintando El Cambio project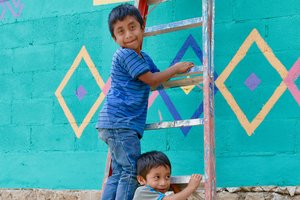 Art is lifting spirits and raising moral in Santa Catarina on the banks of Lake Atitlan, Guatemala. Here the smiles of the locals belie the number of teenage pregnancies or the serious lack of food or sanitation. The vibrancy of the villagers is matched by the brightness of the houses as the Pintando El Cambio (painting for change) project takes shape. Drawing on inspiration from centuries old traditional Mayan weaving designs, contemporary geometric patterns are emerging on walls throughout the town preserving traditional roots and appealing to a younger generation.

In 2019 Journey Latin America staff have worked hard but had fun along the way, raising a whopping $3000 to fund the painting of six houses within this project. On top of this we have designed a number of products that allow our clients to spend a few hours or even days in the community, helping with a donation or actually painting the houses themselves. In order to maximise our impact and fund raising efforts it was key to reach as many people as possible through press and social media. With the help of Sarah Gilbert (travel writer) we have reached approximately 950,000 individuals.

At the end of 2019 a total of 400 houses will have been painted, including the six we funded.
Local Miguel Martin said "We actually have never had support from anyone to help us change the conditions we live in before, so we think this is a big opportunity. The benefits are many, but the most important is having new visitors so our Community can be known and recognized because of our culture and textiles. This is really special because most of the inhabitants are artisans and they earn money by doing handmade products".

Our pledge has had a big impact on staff who have been incredibly supportive. We are trying to start a legacy by creating products around the project that will have a positive impact on clients and locals. Seeing how the project has lifted the village has been an amazing experience for us all.