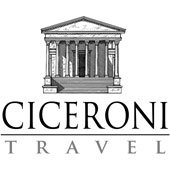 The Golden Age of Ancient Rome
The Golden Age of Ancient Rome Overview
The Golden Age of Ancient Rome from CICERONI Travel , In-depth examination of Rome during the time of the Emperors Trajan and Hadrian. Visit will be led by the Director of the British School at Rome. Exploration of Hadrian's Villa at Tivoli and his 'other villa' at Palestrina. Special access to a number of normally closed sites. Central Hotel.
Antiquity Explored: The Golden Age of Ancient Rome
Tour Lecturer; Dr Christopher Smith, Director of the British School at Rome
Tour Director; James Hill
Very few Roman Emperors deserve to be described as "the Great" but surely two contenders for such an honorific must be Trajan and his cousin and successor, Hadrian? Ruling successively from AD 98 to 138, this forty-year period was truly a Saeculum Aureum: a "Golden Age" which saw the Roman Empire at the apex of its geographical extent and cultural brilliance. These two remarkable individuals and their achievements will be the focus of what promises to be a memorable few days in and around Rome.
Trajan came from Roman Spain and was an outstanding military commander. Adopted by the Emperor Nerva as his heir, he succeeded in AD 98 and combined the roles of military leader with that of Imperial ruler more successfully than any of his predecessors. He annexed Armenia, Mesopotamia and Dacia, thus enlarging the Empire to its greatest physical extent. The resulting riches which poured into the Imperial coffers allowed him to reshape the city of Rome, giving it its then largest basilica, fine public markets, a triumphal column and imperial baths, many of which still stand today.
Succeeded by his cousin Hadrian in AD 117, the Empire was now ruled by a more pragmatic, yet no less ruthless administrator. Hadrian quickly abandoned several newly annexed, indefensible, provinces. He visited nearly every Roman province during his reign, establishing boundaries all over the Roman world as he went. He had a profound interest in and respect for architecture, as well as the language and culture of Greece. Indeed, his rule was defined not only by the transformation of both Athens and Jerusalem, but also through his extraordinary gift to the city of Rome of some of its most innovative and iconic buildings such as the Pantheon, the Temple of Venus and Rome and his evocative villa complex at Tivoli.
We shall include a number of normally closed sites in the itinerary and taken together with the other visits, these will offer participants an insight into the vision of these two men and the magnificence of their imperial capital.
This tour will be led by Dr Christopher Smith, Professor of Ancient History at the University of St Andrews and Director of the British School at Rome. He studied at Oxford University and has written extensively on the early history of the city of Rome and also on Roman historical writing. He is currently completing a book on the Etruscans for the Oxford University Press Very Short Introduction series. This tour will also be managed by James Hill. A Rome resident of over twenty years, James has worked with CICERONI for over fifteen years organising and managing all our Italian, Balkan and U.S. tours.
We shall stay at the 3* Albergo Santa Chiara, situated in the heart of the historic centre of the city close to the Pantheon.
Please note, this tour has now departed, we next expect to offer this tour in 2022. For the latest information about our current and future tours please visit www.ciceroni.co.uk or call 01869 811167
Find out more about CICERONI Travel