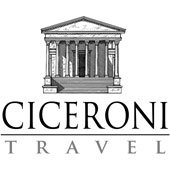 Caravaggio & Beyond
Caravaggio & Beyond Overview
Wonderful opportunity to explore the work of Caravaggio, his contemporaries and followers. Visit to Borghese Gallery for further works by Caravaggio, his teachers & rivals. Two remarkable works by Caravaggio still in private hands seen by special arrangement. Study Day & visit to the National Gallery (30/11/16) is included with the tour.
Caravaggio & Beyond: Painting in Rome in the 1600s
Tour Lecturer; Tom Duncan, Co-Founder of CICERONI Travel
Michelangelo Merisi da Caravaggio is one of the three towering geniuses who created the multifaceted style we know today as the 'Baroque' – the other two are the painter Annibale Carracci and that ultimate man of all arts and crafts, Gianlorenzo Bernini. London's National Gallery will this Autumn (12 October 2016 – 15 January 2017) host an exhibition, "Beyond Caravaggio" devoted to the remarkable influence he had on European artists who descended on Rome in the late sixteenth and into the seventeenth centuries. This four-day visit to Rome, preceded by a Study Day on, and visit to, the NG exhibition (Wednesday 30 November, and included in the Rome visit price) will provide the ideal opportunity to come to terms with this great artist and his wider influence.
Long thought to have been born in the Lombard village of Caravaggio in 1573, recent research has revealed that Michelangelo Merisi was born in Milan in 1571. His early Milanese training is obscure and he may have spent time in Venice. He was certainly in Rome by the late 1580s and his early work was dominated by glorious still life paintings and the patronage of a group of worldly clerics led by Cardinal Francesco Maria del Monte, who secured for him his first major commission, the St Matthew cycle in the Contarelli Chapel of San Luigi dei Franchesi. From this period also come two paintings of St Peter and St Paul in the Cerasi Chapel of Santa Maria del Popolo – we visit both churches to see these masterpieces.
The style of these revolutionary works was not acceptable to more conventional tastes. Their combination of figures based on real, often low-life characters, shown in all their unblemished humanity offended Caravaggio's clerical clients. His dramatic sense and use of light and shade – chiaroscuro - though not new, had never been handled in this way before. He used it as a focal point to heighten our emotional experience of religious subject matter. Indeed, a whole new manner of presenting sacred narrative entered the artistic tradition via Caravaggio. This is seen in the work of his Roman contemporaries such as Orazio Gentileschi (who ended his days in London working for Queen Henrietta Maria) and successors, such as Manfredi and Guercino.
Such revolutionary approaches to the business of painting were echoed in the artist's dramatic, ultimately tragic, life. Tavern brawls, stabbings (if not murder itself) and many other difficulties meant that the last four years of his life were spent in a sense "on the run". Moving from Rome to Naples, he fled to Malta, followed by a period in Sicily, then a return to Naples and finally, death at Porto Ercole north of Rome, all of which lent a sensational tint to his final years. During all that time Caravaggio continued to paint works of art which in their day were considered both revolutionary and unprecedented.
The Roman art world of the early to mid 1600s must have been a place of great opportunity. Young men came to study in the city and Caravaggio made a deep impression, not least on those who came from Utrecht, an outpost of Catholic belief stranded amongst the staunchly Dutch Calvinist Dutch Provinces, particularly Baburen, Honthorst and Terbrugghen. Their world is easily traced and this will form the joint focus of our explorations, in addition to the life and work of the troubled genius who so inspired them.
We stay at the comfortable 3* Superior Albergo del Senato, centrally situated in the Piazza della Rotonda, directly overlooking the Pantheon, the finest monument of Roman antiquity. This respected hotel (in our view, it is most definitely 4*) could not be better placed for, or suited to, the theme of this visit, and is surrounded by a remarkable range of restaurants and other amenities.
Please note, this tour has now departed, we next expect to offer this tour in 2022. For the latest information about our current and future tours please visit www.ciceroni.co.uk or call 01869 811167
Find out more about CICERONI Travel