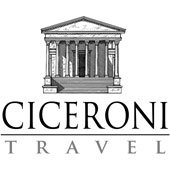 Rome & The Grand Tour
Rome & The Grand Tour Overview
Rome & The Grand Tour from CICERONI Travel; Enjoy a remarkable recreation of "The Grand Tour" in miniature. Discover the Roman world of Piranesi, Robert Adam & their contemporaries. Private visits to The Villa Borghese & Vatican Museums when closed to the public. Stay in a comfortable 3* Superior Hotel ideally situated overlooking the Pantheon.
Et In Arcadia Ego: Rome & The Grand Tour
Tour Lecturer; Tom Duncan, co-Founder of CICERONI Travel
For two millennia Rome has dominated the culture of Europe and has fascinated generations of intelligent travellers from the British Isles, Europe and beyond. Arriving in Italy on "The Grand Tour", the climax of this great adventure was a period spent in Rome, a journey of discovery we shall recreate in miniature, giving participants the perspective of a "Grand Tourist" of the eighteenth century.
The first of the Roman Emperors, Augustus, was said to have found Rome a city of brick and left it one of marble. From then onwards, buildings of unprecedented splendour amply demonstrated the might of Imperial patronage. However, these visions of antiquity were not the only focus of attention for the intelligent traveller.
There was also the marvellous range of churches, palaces and works of art that had been created from the fifteenth century, when a revitalised papacy sought to recapture for the Church splendours based on those of the secular Emperors of the past. Just as the Emperors dominated Imperial Rome, the Popes came to dominate their Rome.
Allied to this process was the rise of the great Papal families: della Rovere, Medici, Farnese and Chigi to name a few. We shall visit their key buildings and collections and just as they enjoyed private access, so too shall we – our week will include three marvellous private visits to Villa Borghese (with its many masterpieces by Caravaggio and Bernini), the Vatican Museums at night and to Rome's finest privately owned palace, Palazzo Colonna.
All of this splendour impressed the procession of visitors from northern Europe and beyond. On their return home, laden with treasures excavated, purchased and commissioned from the best sources, they sought to recreate this "Arcadian" world in their houses, landscapes and follies. It is an exciting story which we long to share.
We stay at the comfortable 3* Superior Albergo del Senato, centrally situated in the Piazza della Rotonda, directly overlooking the Pantheon, the finest monument of Roman antiquity. This respected hotel will be the perfect base for our visit and is surrounded by a remarkable range of restaurants and other amenities.
Please note, this tour has now departed, we next expect to offer this tour in 2022. For the latest information about our current and future tours please visit www.ciceroni.co.uk or call 01869 811167
Find out more about CICERONI Travel