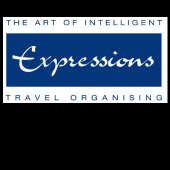 Expressions Rail Holidays by Expressions Holidays
Expressions Holidays organises tailor-made rail holidays and scenic train journeys both within Europe and further afield. Destinations include Italy, France, Spain, Austria and Switzerland, as well as Thailand, Malaysia and Singapore.

Our train holidays allow you to discover new lands whilst relaxing in comfortable surroundings and enjoying the sense of travelling.
Train holidays are increasingly popular and rekindle the romance of travel, combining stunning scenery with the eco-friendly aspects of travelling by train. Train travel from the UK to other destinations is increasingly easy - from London's St Pancras station you can journey remarkably effortlessly to Madrid, Sicily and
Expressions Holidays organises tailor-made rail holidays and scenic train journeys both within Europe and further afield. Destinations include Italy, France, Spain, Austria and Switzerland, as well as Thailand, Malaysia and Singapore.

Our train holidays allow you to discover new lands whilst relaxing in comfortable surroundings and enjoying the sense of travelling.
Train holidays are increasingly popular and rekindle the romance of travel, combining stunning scenery with the eco-friendly aspects of travelling by train. Train travel from the UK to other destinations is increasingly easy - from London's St Pancras station you can journey remarkably effortlessly to Madrid, Sicily and Budapest.
With Expressions Holidays, rail holidays are tailor-made for every customer. Our train journeys are aimed at individuals, families or parties of friends travelling together and are not escorted group holidays with a guide.

Travelling by train with Expressions Holidays offers you:
- Journeys on some of the most spectacular and luxurious trains in the world, such as the Venice-Simplon Orient Express, the Eastern & Oriental Express and the Danube Express.
- A wonderful holiday staying at a luxury hotels in a beautiful location, using train to get there.
- Scenic rail journeys where the purpose is to enjoy the scenery en route, such as travelling over the Alps to Venice or travelling through France to Nice and the French Riviera.
- Classic rail journeys to the major cities and sights of Europe, such as a rail holiday combining visits to Florence, Venice & Rome or a rail holiday exploring Andalucia and Madrid.
- Day-time travel only with overnight stops in places en route or sleeper services where possible.

Expressions Holidays has put together a selection of suggested train and rail journeys, in Europe and further afield. Use these ideas as they are or as starting points which we can then adapt to suit your needs and create a tailor-made holiday. Our holidays can be adapted for small private groups and for families. Visit www.expressionsholidays.co.uk/Rail-Holidays/ for more information.