Expert Africa - 2017 Pledge Testimonial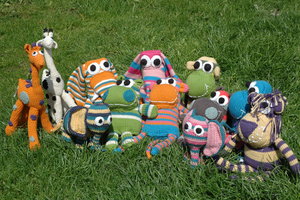 We chose a pledge with an emphasis on animal conservation - it is a topic that resonates with our travellers, & many of them want their trips to focus on wildlife, often the 'Big 5'.

Narrowing down a specific pledge was challenging, as many of our suppliers already carry out valuable sustainability projects. Our initial plan to work with one initiative unfortunately fell through, but after helpful input from wider members of the team, we chose to support a women's cooperative in Zambia (Little Ndaba) that crochets toy rhinos, with profits going to Save the Rhino as well as the local community. We've previously worked with Save the Rhino and this pledge enabled us to further our collaboration with them.

It was an exciting time when we consolidated our (many!) ideas into a concise pledge, to financially & materially contribute to Little Ndaba. We have been a support network for the very small administration team behind Little Ndaba in terms of the development of their website and brochure materials. We also donated £2,000 to create an updated website and are helping to increase their product exposure by providing our travellers with information about the initiative. "Many thanks again for reaching out to us - what a super Christmas gift!" Charles, Little Ndaba.

We also donated £1,200 to the Tanzanian charity Equality in Tourism (supporting women farmers in rural communities) and $1,050 to Azizi Life (a women's cooperative in Rwanda, supporting 30 adults to learn how to read and write over 12 months), as part of our commitment to contributing a total of £15,000 to selected charities in Africa throughout the year.
Implementing our pledge has helped us recognise that what may seem like a small commitment from us can make a huge difference to others, and that not only money is required to make a difference, a diverse range of skills can provide invaluable support.
We aim to develop our pledge over time, as well as set sustainability and charitable principles in place within Expert Africa that will form a solid basis for the foreseeable future.