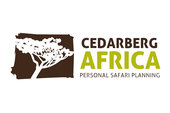 Natural Wonders of Africa by Cedarberg Africa
Africa boasts numerous natural attractions worthy of inclusion in anyone's list of 7 natural wonders of the world.

Some are mighty icons such as the Victoria Falls, Mount Kilimanjaro, Table Mountain or the Serengeti Plains; others are seasonal highlights, such as whale season on the southern coast of South Africa, the 'Sardine Run' or the blooming desert of Namaqualand.

We craft tailor-made holidays and safaris, backed up by our expertise and insight, with the full financial protection you forfeit when you book piecemeal.

Our website (which you can access direct from the link to the left) offers hundreds of sample safari trip ideas. But what we do is all tailor-made. So it
Africa boasts numerous natural attractions worthy of inclusion in anyone's list of 7 natural wonders of the world.

Some are mighty icons such as the Victoria Falls, Mount Kilimanjaro, Table Mountain or the Serengeti Plains; others are seasonal highlights, such as whale season on the southern coast of South Africa, the 'Sardine Run' or the blooming desert of Namaqualand.

We craft tailor-made holidays and safaris, backed up by our expertise and insight, with the full financial protection you forfeit when you book piecemeal.

Our website (which you can access direct from the link to the left) offers hundreds of sample safari trip ideas. But what we do is all tailor-made. So it starts with - and is all about - you. So the simplest way to get the trip planning started is to call us.