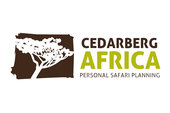 African Safaris by Cedarberg Africa
Cedarberg Africa arranges tailor-made African safaris to top wildlife reserves and National Parks.

In Southern Africa, our home base is in South Africa's Cape, hence our strength in malaria-free safaris and family safaris. Cedarberg has 19 years self-drive safari experience in South Africa and Namibia. For a more wildlife-intense holiday, we suggest Botswana, Zambia, Malawi, Mozambique or Zimbabwe.

In East Africa we offer off the beaten track and classic migration safaris to Kenya and Tanzania as well as gorilla and primate trekking in Uganda and Rwanda.

Off the mainland we feature the natural Indian Ocean heritage of Madagascar, Mauritius and The Seychelles.

We craft tailor-made
Cedarberg Africa arranges tailor-made African safaris to top wildlife reserves and National Parks.

In Southern Africa, our home base is in South Africa's Cape, hence our strength in malaria-free safaris and family safaris. Cedarberg has 19 years self-drive safari experience in South Africa and Namibia. For a more wildlife-intense holiday, we suggest Botswana, Zambia, Malawi, Mozambique or Zimbabwe.

In East Africa we offer off the beaten track and classic migration safaris to Kenya and Tanzania as well as gorilla and primate trekking in Uganda and Rwanda.

Off the mainland we feature the natural Indian Ocean heritage of Madagascar, Mauritius and The Seychelles.

We craft tailor-made holidays and safaris, backed up by our expertise and insight, with the full financial protection you forfeit when you book piecemeal.

Our website (which you can access direct from the link to the left) offers hundreds of sample safari trip ideas. But what we do is all tailor-made. So it starts with - and is all about - you. So the simplest way to get the trip planning started is to call us.