Bushbaby Travel Sustainability
Our sustainable Tourism Vision
Our deep-rooted company values of love, integrity, family and enrichment put responsible tourism at the heart of what we do. We believe in embracing the values we wish to see developed, listening to locals and visitors to create the opportunities that connect top-down and grassroots efforts. Our clients tell us that they want their holidays to be beneficial to the local community and that they want to better understand the culture of the people they meet in the places they visit. Ultimately responsible tourism is about using tourism to make better places for people to live in and we think better places to live in are better places to visit.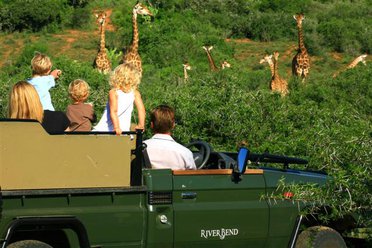 Sustainable Tourism Projects from Bushbaby Travel
Supporting the Education for All programme with ChemU in Uganda
We work with the Kate Farrer Foundation to support their partnership with ChemU in Uganda - an education for all programme which is very close to our hearts. As well as ad hoc help, we sponsor five young people to complete their secondary education as part of this programme. Promise is one of these young people - here she is with her father, receiving an award for her excellent performance in primary school. With our help she started secondary school in 2017.
Bushbaby as a Family-Friendly Employer
Bushbaby is all about family values. We might be small but our family-friendly work practices are streets ahead of many larger companies and we offer the kind of flexibility that most parents dream of. Our friendly, supportive team enjoy working from a rural office.
Supporting the Provision of Personal Care Kits to 100 Girls at Twabuka Community School, Zambia
As a family specialist tour operator, Bushbaby loves creating experiences that inspire lifelong memories. Our values of love, integrity, family and enrichment put responsible tourism at the heart of what we do and a natural focus for us is access to education. We work with many lodges that are owned by or which support their local community, especially youth programmes. We are promoting Waterberry Lodge in Zambia and particularly value their community schooling focus. In 2017/18, in partnership with the lodge, we will be working on a menstrual health project which will directly benefit girls in Grade 5 and above at Twabuka Commmunity School. Lack of modern sanitary wear and cultural taboos around periods have led to girls missing school. By providing 100 girls with a kit, composing eco-friendly, reusable and washable sanitary pads as well as underwear and information on puberty and self-care, the aim is to improve school attendance amongst this demographic. Each kit will cost £20 to buy and last at least 2 years. Bushbaby will help produce literature to support the roll-out and will contribute a multi-pack of underwear for each kit. We plan to visit the project and encourage clients staying at the lodge to find out more, visit the school and 'pack to protect' as well as sharing updates through our newsletters and website. We love introducing new destinations to our clients and by choosing Bushbaby they in turn demonstrate support for our shared values, sustainable tourism and meaningful community engagement.
Running a Sustainable Office
We are based in a lovely office in rural Surrey, amidst woodland and rolling green fields - it really is quite idyllic! Reminded by our closeness to nature, we strive to run our office in an 'environmentally friendly' manner and always try to minimise our paper usage by corresponding with clients by phone and email.