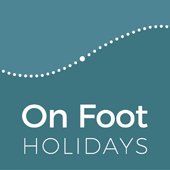 On Foot Holidays - Yorkshire
On Foot Holidays - Yorkshire Overview
The walk begins in the vale at Ripon, gradually rises westwards through the Dales, and finishes with an ascent of Ingleborough. There is plenty of fascinating geology along the way, lovely pubs, small hotels and B&Bs, and of course Yorkshire Pudding and plenty of local ales (plus some French chef cuisine).
From Ripon to Ingleborough through the Dales
This route, our third in England and our first in the north of the country, seeks to show walkers the two sides of Yorkshire's rural heritage, and was designed by local residents and On Foot clients Shaun and Lynda Callaghan. Starting in the eastern lowlands, in the little cathedral "city" of Ripon, the first day takes you straight to one of the most important centres of medieval England, Fountains Abbey, which owned vast tracts of the county before Henry VIII decided that he would prefer them for himself and his barons. The setting of the Abbey is without parallel.
The route then starts to climb, gradually at first, through the sheep country of the Dales (sheep were as important in medieval times as they became in the 18th century when they were the basis for Yorkshire's industrial growth). Linking the pretty villages of Pateley Bridge, Burnsall, Hebden, Grassington and Kettlewell, your route reaches limestone country via justly famous Malham "Cove", before traversing the market town of Settle to your destination, Austwick village, nestling in the dale below the gaunt massif of Ingleborough, one of Yorkshire's "three peaks", and your final challenge.
Stay in country pubs and comfortable B&Bs, upgrading if you wish to smarter hotels, and eat well – the route boasts two French-chef-run establishments to supplement the hearty Yorkshire fare that will ensure you do not flag during these long days (though shortening options are available).
Six, five, four and three night versions of this holiday are also available. See the On Foot Holidays website for details of prices and dates.
Find out more about the On Foot Holidays - Yorkshire