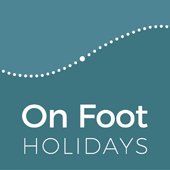 On Foot - Camino de Santiago
On Foot - Camino de Santiago Overview
It is with some humility, and as a departure from our normal walking vision, that we at On Foot Holidays decided to offer a version of the Camino de Santiago, the most famous group of walking routes in the world.
In the steps of King Alfonso the Chaste (760-842 AD)
Of huge historical significance and real and legitimate antiquity, these routes started after the certification in 813 AD that remains discovered in what is now Santiago by a hermit (later San Pelayo) were indeed the bones of the apostle St James the Greater, son of Zebedee.
Whatever the reality, the discovery quickly assumed huge importance in the spiritual and political regeneration of not only Spain but the whole of Europe in the period after the Moorish conquests in Spain, and acted as a catalyst to the Reconquista. Ever since, pilgrims have been making their way on foot (and cycle) to the great cathedral at Santiago by various "Ways", the most famous being the Camino Frances from France. The Camino Primitivo, as the name suggests, can lay reasonable claim to be the original and oldest, as King Alfonso the Chaste of Asturias made a pilgrimage along it in 814, a year after the discovery. Whether he followed the exact route is not known; but the wealth of churches and other evidence along the route suggests that it was something very close to it.
Our choice is further vindicated by the relative beauty of the Camino Primitivo, compared with some endless stretches of the other routes, which can take mortification of the flesh to excess. Our full 14-night route starts at Oviedo cathedral, and quickly climbs into the rolling Asturian Hills before, nine days after leaving Oviedo, reaching the Roman-walled town of Lugo. The countryside after Lugo is more gentle, and a further four days sees you at the centre of Santiago in the cathedral square, to rejoice with pilgrims from all over the world on the attainment of your goal.
The grading of this walk (medium-hard) is more an attestation to the length of the days rather than ups-and-downs; the underfoot conditions are good in the main (prepared path for the final two days) and navigation via the famous scallop shells is easy. You can always shorten days by calling local taxis.
Route options from 5 to 14 nights available. If however you wish to obtain a "Compostela" on completion you need to comply with various conditions, notably that the final 100km must be completed on foot, and that you are walking with a "religious or spiritual purpose".
See the On Foot Holidays website for details of prices and dates.
On Foot Holidays website - Camino de Santiago