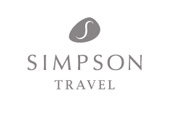 Italy by Simpson Travel
It's said that Italy is everything all at once: the romance-seeker's oil painting, the music-lover's symphony, a truly world-class vineyard and a jet-setter's playground. Certainly, when it comes to relaxing, romantic or fun-filled luxury holidays, this stylish, historic, beautiful country has 1,001 reasons why you should choose it as your place in the sun.

This is your invitation to enjoy that elusive dolce vita. From Chianti's world-famous wines to Florence's breathtaking art and architecture; Umbria's unforgettable landscapes to the mysteries of Venice and the glorious coastlines of Sicily, our luxury Italian holidays give you the time and space to soak it all in.

So choose your
It's said that Italy is everything all at once: the romance-seeker's oil painting, the music-lover's symphony, a truly world-class vineyard and a jet-setter's playground. Certainly, when it comes to relaxing, romantic or fun-filled luxury holidays, this stylish, historic, beautiful country has 1,001 reasons why you should choose it as your place in the sun.

This is your invitation to enjoy that elusive dolce vita. From Chianti's world-famous wines to Florence's breathtaking art and architecture; Umbria's unforgettable landscapes to the mysteries of Venice and the glorious coastlines of Sicily, our luxury Italian holidays give you the time and space to soak it all in.

So choose your favourite from our inspiring collection of luxury villas and boutique hotels, and know that you'll be welcomed with open arms: part of la famiglia from the moment you arrive.