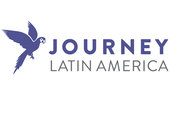 Costa Rica by Journey Latin America
Costa Rica is a treasure trove for the nature-lover. Separating the lowlands facing the Caribbean Sea and the Pacific Ocean is a range of active and dormant volcanoes surrounded by mountain cloud forest, lowland tropical jungle and savannah grasslands. Plantations of its world famous coffee blanket the sunny slopes, while trees laden with orchids are home to quetzals, trogons and hummingbirds.

On the Pacific coast, the jungle creeps down to the shoreline, enlivened by the chattering of monkeys and parrots; the Caribbean shore hosts volcanic beaches and palm-sheltered coves lapped by a turquoise sea.

There is a well-developed, slick and sustainable network of national parks covering
Costa Rica is a treasure trove for the nature-lover. Separating the lowlands facing the Caribbean Sea and the Pacific Ocean is a range of active and dormant volcanoes surrounded by mountain cloud forest, lowland tropical jungle and savannah grasslands. Plantations of its world famous coffee blanket the sunny slopes, while trees laden with orchids are home to quetzals, trogons and hummingbirds.

On the Pacific coast, the jungle creeps down to the shoreline, enlivened by the chattering of monkeys and parrots; the Caribbean shore hosts volcanic beaches and palm-sheltered coves lapped by a turquoise sea.

There is a well-developed, slick and sustainable network of national parks covering much of the national territory and road travel is always scenic. There are many light aircraft services to reach the remoter spots.

Whether you're a solo traveller or a group of friends looking to join one of our escorted group tours, or a family looking to experience the wonders of this beautiful country, we have a holiday for you. All of our Costa Rica holidays can be tailor-made to your exact requirements so contact our Travel Experts today and start planning your trip.