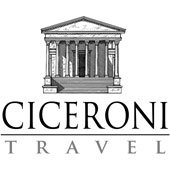 Vases & Volcanoes: Naples
Vases & Volcanoes: Naples Overview
Discover the world of Roman antiquity. Relive the Grand Tour of the Bay of Naples. Pompeii and Herculaneum explored in depth with privileged access. Range further afield when we visit the Greek city at Paestum. Pozzuoli and Baia also included. Enjoy the comforts of an excellent hotel on the famed Bay of Naples.
Vases & Volcanoes: Exploring the Bay of Naples
Tour Lecturer; Christopher Smith, is Professor of Ancient History at the University of St Andrews and Director of the British School at Rome. He studied at Oxford University and has written extensively on the early history of the city of Rome, the Etruscans and Etruscology, and also on Roman historical writing.
Nea polis, or "new city", was built in the fifth century BC as the original Greek settlements on this beautiful bay became overcrowded. Even after the Roman conquest of the city in 326 BC, Naples clung to its Greek heritage. It is fitting therefore that we begin with a visit to Paestum, the ancient Poseidonia, the site of three magnificent Doric temples (dated between 530 - 450 BC), where we can sense the atmosphere of Magna Graecia, the wealthiest part of the Greek world, before it was absorbed by the Romans.
Herculaneum is the site of the first famous excavations of the eighteenth century, sparking off an intense interest in the archaeology of the ancient world. The contrast between this opulent city and the more commercial and bustling Pompeii will be obvious. Our visits to both cities will allow us to explore the public and private sides of Roman city life in detail. Special amongst our visits will be the intimate Villa Oplontis, said to be the home of Nero's second wife, Poppaea and the remarkable Flavian amphitheatre at Pozzuoli. We shall also visit the city's archaeological museum, an unrivalled collection of antiquities giving us an insight into this opulent Roman world. Our journey will trace those of the 'Grand Tourists' as we travel in the footsteps of the Hamiltons and their friends, shadowed by Vesuvius, as we seek to find that 'attic grace' so beloved by the eighteenth century.
We shall stay in Naples at the comfortable 5* Grand Hotel Santa Lucia, situated picturesquely on the shores of the Bay of Naples overlooking the Castel del Ovo, using sea-view rooms. James Hill will be the tour manager.
Please note, this tour has now departed, we next expect to offer this tour in 2022. For the latest information about our current and future tours please visit www.ciceroni.co.uk or call 01869 811167
Find out more about CICERONI Travel