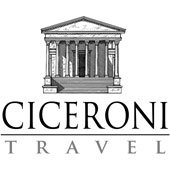 Siena & Tuscan Gardens
Siena & Tuscan Gardens Overview
Siena & Tuscan Gardens from CICERONI Travel. Scholarly introduction to Siena & its artistic treasures. Private visits to many of southern Tuscany's best villas & gardens. Generous hospitality from the owning families. Wonderful historic 5* hotel in central location, the city's finest. Gentle pace.
Merchants, Popes and English Peers: Siena & Tuscan Gardens
Tour Lecturer; Tom Duncan, co-Founder of CICERONI Travel
Tuscany is dominated by a series of towns great and small, all of which contributed enormously to the history of architecture, sculpture, painting and landscape design. While Florence came to prominence in the 15th century, the preceding 150 years were dominated by its great southern rival, Siena! Encircled by a magnificent set of medieval walls, Siena contains a remarkable array of buildings and art collections to which you will be introduced. Outside those walls, we shall also discover some beautiful gardens scattered throughout southern Tuscany. These range from the renaissance and baroque periods to some of the most interesting gardens created in Italy in more recent times. Indeed, we shall enjoy remarkable levels of private access and hospitality as our days unfold in this most heavenly of landscapes.
Duccio di Buoninsegna, Simone Martini, the Lorenzetti brothers – these are the names that mark the high point of Sienese painting. Working in both fresco and on panel, the style of these artists stands in direct contrast to those of Florence. Sienese masters developed a style rooted in deep spirituality, while their Florentine contemporaries concentrated on a more worldly style, leading in time to the innovations of the early renaissance. However, unlike the dispersal of so much Florentine art, the majority of Siena's most important works of art are still in situ in the buildings and churches for which they were produced.
While all this patronage developed, it had to be paid for and one has to ask "from where did the money come?" Siena was a very important commercial centre in late medieval times. Banking was one of its most profitable activities, together with the sale of many different luxury goods and products. From this mercantile elite, two families rose to spectacular prominence, as members of both were elected Pope.
First of these papal dynasties, the Piccolomini family produced two popes, the scholarly Pius II (1458 – 1464) and Pius III (ruling for a few months during 1503). The family left their mark on both Siena and the surrounding countryside. Of far greater significance was the Chigi family, a dynasty of merchant princes and papal advisors, eventually producing one of the greatest of the 17th century popes, Alexander VII (1655 – 1667). More than any other Sienese family, the Chigi have left an indelible impression on this area, particularly the tradition of building fine country villas surrounded by wonderful gardens, a heritage we shall discover repeatedly.
We stay in the finest hotel in the city, the 5* Grand Hotel Continental. This is centrally located on the main, pedestrianised, Via Banchi di Sopra. Just off this street lies the famous Campo and all other major sites are within easy walking distance. Recently converted from the former Palazzo Gori Pannilini, it contains marvellous frescoed reception rooms on the piano nobile. It is a very comfortable hotel providing excellent levels of hospitality.
Please note, this tour has now departed, we next expect to offer this tour in 2022. For the latest information about our current and future tours please visit www.ciceroni.co.uk or call 01869 811167
Find out more about CICERONI Travel