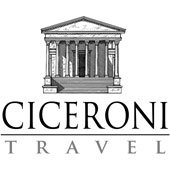 Sicily Ancient & Modern
Sicily Ancient & Modern Overview
Complex Crossroads: Sicily Ancient & Modern from CICERONI Travel. Comprehensive overview of Sicily's major treasures - wonderful Greek Temples, the famous Roman Villa Piazza Armerina with its marvellous mosaics, and major Norman churches & palaces with their Byzantine treasures. Private visits to remarkable Baroque palaces included.
Complex Crossroads: Sicily Ancient & Modern
Tour Lecturer: Christopher Smith
Sitting in the centre of the Mediterranean, Sicily has been a strategic resource fought over for millennia. The original settlers were overcome by the Phoenicians from Carthage; then came the Greeks, attracted by the great natural resources of the island; finally, in classical times the Romans arrived. During the so-called Dark Ages Sicily continued to prosper, particularly during its period as part of the Byzantine Empire, a heritage reflected in the fine mosaic cycles later made for the Normans after Byzantine traditions. Finally, from the ninth century onwards Arabic, or "Moorish" culture added to this heady mix.
It was the arrival of the Normans which initiated a period of great wealth and sophistication, a golden age when the cultures of east and west fused. In more modern times Sicily saw a succession of foreign dynasties, particularly French and Spanish, rule the island with sublime indifference. However, their resident aristocracies have given the island a rich heritage of Baroque, Rococo and Neoclassical monuments of great power and beauty.
We shall spend four nights in Palermo at the Hotel Plaza Opera, two nights just outside Agrigento at the Baglio della Luna and three nights in the centre of old Syracuse on the "island" of Ortygia at the newly restored and comfortable Hotel des Etrangers. All three are decent, locally rated 4* hotels and that on Ortygia is of architectural interest with many rooms enjoying splendid harbour views.
Find out more about Sicily Ancient & Modern