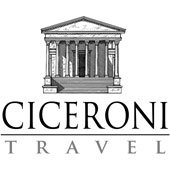 Connoisseurs' Rome
Connoisseurs' Rome Overview
Behind Closed Doors: Connoisseur's Rome from CICERONI Travel. Exceptional level of private access. Rare opportunity to visit the Sistine Chapel, privately, at night & with no others present. Explore the unprecedented riches of Villa Borghese with its six Caravaggios & the finest collection of Bernini sculptures.
Behind Closed Doors: Connoisseur's Rome Tour Lecturer; Tom Duncan, Co-Founder of CICERONI Travel,
If all roads lead to Rome, not all organised visits open the doors of Rome's many private palaces and villas! This visit is an exception as it is almost entirely devoted to a series of specially arranged private visits. We shall enjoy extraordinary levels of access to some of the most important palaces, villas and collections in Rome.
How is this possible? Over the years CICERONI Travel has built up an unrivalled series of introductions and contacts in Roman society, both sacred and secular. This allows us organise what we believe to be the finest tour of its kind available. It is an opportunity which you are cordially invited to participate in as our guests! The overriding theme of the visit (limited to 20 participants) will be to allow you enjoy a level of private access to remarkable buildings and their collections, while recreating the perspective of an earlier, more privileged world.
Your physical comfort is guaranteed: our chosen hotel is the very comfortable 3* Superior Albergo del Senato, just by the Pantheon and situated in the heart of the historic centre of the city. Throughout the visit we shall use a series of Mercedes 'people carriers' thus ensuring a truly door-to-door service for all visits.
Please note, this tour has now departed, we next expect to offer this tour in 2022. For the latest information about our current and future tours please visit www.ciceroni.co.uk or call 01869 811167
Find out more about CICERONI Travel