Turning ''mottainai'' (waste) into ''arigatou'' (thanks): supporting food banking in Japan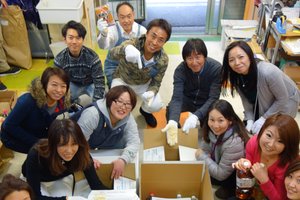 InsideAsia Tours are proud to have achieved our 2018 pledge by implementing a scheme where our clients who receive a transport card can send it to Second Harvest Japan (2HJ) so the remaining funds are donated to support people living in poverty.

We ran a trial by sending 500 envelopes to clients travelling between August and October 2018. 27% of our customers engaged with the scheme and we received 309 cards in return. From these cards we donated 315,566 yen (£2,254) to 2HJ which has provided 12,622 meals to people in need. We pledged to receive 1,000 cards in 12 months and to raise £3,000, so proportionally we have raised more money than our target.

The trial was delayed as it takes two months to arrange pre-paid addressed envelopes in Japan but now the scheme is fully up and running. To improve the efficiency of the scheme and to reduce our administration costs, 2HJ arrange the envelopes and remove funds from the cards. We are recommending 2HJ recommend this scheme to other tour operators in Japan as they can receive significant donations from these cards. We are also asking the supplier of the cards to set up a recycling scheme, so the physical cards do not go to waste.

Staff in all offices of IAT have been supportive of and excited about the benefits of the scheme. We are bridging closer ties with 2HJ by offering tour leaders volunteering opportunities with the charity. Charles McJilton, the director of 2HJ, has thanked to us on behalf of the beneficiaries of the Harvest Kitchen in Ueno Park, the food banks and disaster relief efforts in Japan. We have also received positive feedback from clients about the scheme.

Project PROTECT encouraged IAT staff to implement this scheme and offer an easy way for our clients to give back to the hospitable people of Japan. It has inspired us to set-up a Sustainability Committee in the Bristol office and to look at other ways we can support charities and reduce waste. We aim to achieve more projects like this in the years to come!