Supporting the start of sustainable businesses around the world (2019)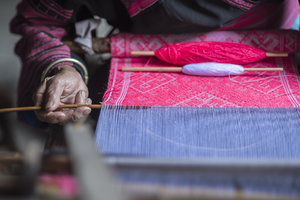 In 2019 Explore pledged to support three sustainable and self-sufficient businesses through our Start-up-Fund programme. £2,000 was available which was raised by commission from the sale of 367 Water-to-Go filtered bottles to our customers. Although we did not hit our goal of £3,000 we are still pleased to be able to support three commendable projects.

After an initially slow take up we received 15 applications for funds from our local ground agents around the world. Members of Explore's Responsible Business Forum whittled these down to two excellent projects. The winners were announced to customers in a blog, giving them the opportunity to visit the project in China and hopefully the one in Albania in the future.

The runner up, receiving £500, is a women's cooperative in the Sanjiang Dong village (China). The funds will be used to buy more cotton and fix their loom, enabling them to continue with their traditional weaving methods and provide the women of the village with an income to help them maintain their independence. The cooperative "is really pleased. Thank you for helping the local community to keep their traditions going".

This year's winner, receiving £1,000, is a Guest House Museum in Pellumbas village (Albania). They will use the money to set up a cultural centre that will open in 2020 and showcas traditional Albanian life. The benefactors "are very happy and thank you for supporting this genuine project of local preservation".

We decided to donate the remaining funds to the Somerset West Village Community Garden project in South Africa. The project is an inspiring 'employment scheme' whereby homeless people receive training and work in the garden in exchange for tokens, which can be redeemed for food and clothing.

We are delighted to be able to continue with the Start-up-Fund programme in 2020. Drawing on our experiences from previous years we hope to encourage better take up by giving our local agents longer to find suitable projects, informing them of the opportunity in January and giving them six months to come up with a business proposal.