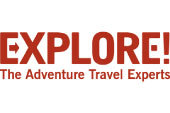 Portugal by Explore
Portugal is scattered liberally with picturesque whitewashed towns and villages and their distinctive black and white cobblestone mosaic streets. A plain white wall may be enlivened by a tumble of shocking pink bougainvillea, while in the Atlantic archipelagos of the Azores and Madeira the vegetation turns decidedly tropical, with frangipani, birds-of-paradise and orchids.

The 15th and 16th centuries were a golden age of exploration for Portugal. Portuguese sailors discovered the Azores in 1420 and – apart from a brief spell under Spanish rule – have controlled it ever since. Madeira was discovered around the same time and also has remained in Portuguese hands for most of the following
Portugal is scattered liberally with picturesque whitewashed towns and villages and their distinctive black and white cobblestone mosaic streets. A plain white wall may be enlivened by a tumble of shocking pink bougainvillea, while in the Atlantic archipelagos of the Azores and Madeira the vegetation turns decidedly tropical, with frangipani, birds-of-paradise and orchids.

The 15th and 16th centuries were a golden age of exploration for Portugal. Portuguese sailors discovered the Azores in 1420 and – apart from a brief spell under Spanish rule – have controlled it ever since. Madeira was discovered around the same time and also has remained in Portuguese hands for most of the following years, except for a brief occupation by the British in the early 19th century.
tately cathedrals such as the Manueline-style Se in Funchal, capital of Madeira, are often the centrepiece of Portugal's historic towns. The country's settlements have many fine religious monuments with rich architectural features and elaborate interiors, testament to its past wealth.

Portugal offers superb walking options, away from the crowds and package holidaymakers. On the Azores, you can walk through a volcanic landscape, explore a caldera and go for a dip in bubbling thermal pools. On Madeira, you can head to the rugged finger of the Sao Lourenco Peninsula sticking out into the Atlantic, or climb the island's highest summit, Ruivo, which is 1,862 m high.

The extensive sandy strands found in the Algarve are less common in the Azores and Madeira because of their steep cliffs around their coastlines but there are plenty of saltwater natural swimming pools, some carved out of volcanic rock.

The Atlantic off the coast of Portugal is a great place to spot whales and dolphins. The Azores is one of the country's top places to go on a whale and dolphin spotting trip.

Portugal is rightly famous for its drink traditions, from port produced in Oporto to the fortified wine of Madeira. Both Madeira and port are made by adding brandy to wine, which historically was used to preserve the wine for export. In Funchal, Madeira, you can visit a wine lodge and do a tasting to discover more about the island's most well-known export.