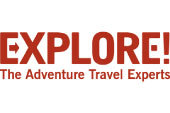 Canada by Explore
An Explore holiday in Canada is an adventure into nature in its wildest state. Canada's sensational natural beauty, mountainous terrain and hundreds of miles of coastline and lakes, make this one of the best destinations in the world for outdoor pursuits such as hiking, sea kayaking, whale watching and winter sports. Explore's tours to Canada give you a wide range of options to enjoy, from active adventures in the Rocky Mountains to city exploration in Montreal and Vancouver.

Canada's main cities, Vancouver, Quebec and Toronto, are are some of the best that the country has to offer, with eclectic food scenes and relaxed locals. Pacific Rim National Park on Vancouver Island offers great
An Explore holiday in Canada is an adventure into nature in its wildest state. Canada's sensational natural beauty, mountainous terrain and hundreds of miles of coastline and lakes, make this one of the best destinations in the world for outdoor pursuits such as hiking, sea kayaking, whale watching and winter sports. Explore's tours to Canada give you a wide range of options to enjoy, from active adventures in the Rocky Mountains to city exploration in Montreal and Vancouver.

Canada's main cities, Vancouver, Quebec and Toronto, are are some of the best that the country has to offer, with eclectic food scenes and relaxed locals. Pacific Rim National Park on Vancouver Island offers great whale watching and sea kayaking opportunities, and the ice skating, dog sledding and other winter sports activities make family holidays in Canada an awesome experience.

For mountain lovers, the magnificent Rockies are awe-inspiring peaks that protect wildlife such as bears, elk and moose, as well as being home to stunning blue lakes and huge national parks. You're guaranteed to witness spectacular scenery and breathtaking views, whether it's by taking the aerial tram to the top of Sulphur Mountain in Banff, or driving along the scenic highway of the Icefields Parkway, to Jasper National Park. Tom Wilson was the first white Canadian to see Lake Louise, in 1882, and was inspired to write, "I never, in all my explorations of these five chains of mountains throughout western Canada, saw such a matchless scene... I felt puny in body, but glorified in spirit and soul'.

If you are in search of even more solitude during your trip to Canada, the Yukon is a one-of-a-kind place that represents thousands of miles of sheer wilderness. The gold rush blew a short-lived trail through the area at the end of the 1800s, and left a series of eerie ghost towns that still exist as old wooden facades, covered over by trees and forest. Old clapperboard buildings are common in Whitehorse and Dawson, and the vintage railway journey across the White Pass to Skagway is one of the highlights of the Yukon region.