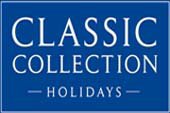 Luxury Malta Holidays by Classic Collection Holidays
There can be few places in the world which offer as much variety per square mile as Malta. Just fifteen miles by nine, this sunny island in the middle of the Mediterranean has more than 7,000 years of history to share. Valletta, the gloriously Baroque and aristocratic capital, is poised elegantly above its own grand harbour. Neighbouring Gozo, a short ferry ride from Malta, boasts a stunning seascape, delightful rural interiors and timeless villages offering peace and tranquillity.

Increased flying opportunities with no-frills, charter and scheduled flights from UK airports in the summer and during the winter have made Malta an extremely accessible destination year-round.

Classic
There can be few places in the world which offer as much variety per square mile as Malta. Just fifteen miles by nine, this sunny island in the middle of the Mediterranean has more than 7,000 years of history to share. Valletta, the gloriously Baroque and aristocratic capital, is poised elegantly above its own grand harbour. Neighbouring Gozo, a short ferry ride from Malta, boasts a stunning seascape, delightful rural interiors and timeless villages offering peace and tranquillity.

Increased flying opportunities with no-frills, charter and scheduled flights from UK airports in the summer and during the winter have made Malta an extremely accessible destination year-round.

Classic offer a wonderful selection of eleven hotels with something to suit everyone's taste.