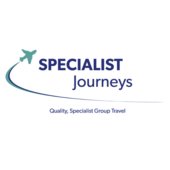 Brightwater Holidays by Andante Travel
Brightwater Holidays is the UK's leading Gardens and Special Interest Tour Operator. Offering inclusive group tours to gardens in the British Isles and around the world; gardens are carefully chosen to include a balance of large, famous properties and smaller, private gardens, not normally open to the public.

Brightwater Holidays has been based in Fife's county town of Cupar for the last 25 years. In that time, we have made it our mission to provide quality garden and special interest tours to individuals, private clubs and societies up and down the country. Helping our guests to expand their horizons and fulfil their travel dreams is both our focus and our privilege — if there's a garden
Brightwater Holidays is the UK's leading Gardens and Special Interest Tour Operator. Offering inclusive group tours to gardens in the British Isles and around the world; gardens are carefully chosen to include a balance of large, famous properties and smaller, private gardens, not normally open to the public.

Brightwater Holidays has been based in Fife's county town of Cupar for the last 25 years. In that time, we have made it our mission to provide quality garden and special interest tours to individuals, private clubs and societies up and down the country. Helping our guests to expand their horizons and fulfil their travel dreams is both our focus and our privilege — if there's a garden or archaeological site you've always wanted to see, we'd love to help you see it. From the northern tip of Scotland to the southern reaches of Cornwall, the villas of Italy, or the temples of Japan – you can discover it all on a Brightwater Holidays tour.

To go on a Brightwater Holiday is to join a group of like-minded adults with enquiring minds, who are all looking for more from their holiday package. Our holidays are all well planned and paced, often with a twist or a theme. We work hard to arrange the innovative and the special, making it easy to visit that garden, antiquity or island you've always wanted to see. To walk with the owner of a private garden that has opened especially for our party and hear the secrets and stories of their garden is the norm on a Brightwater Holiday.